All you have to do is move your index finger one inch up, or one inch down. There is not much you have to do. Really. Just one inch up, or one inch down. And guess what, it goes back into place all by it's lonesome. I'm not asking for a left hand signal here like people back in the 50s and 60s had to, when their cars didn't have signals.
You're moving from the left lane to the right, use a signal. From the right to the left, use a signal. I mean I was cut off about 7 or 8 times just going into work and then another 4 times on the way home. I'm a pretty patient person but What THE FUCK! Why can't you give a signal? Why can't you give a timely signal? Why can't you just sit in your lane for 30 seconds. You speed up to a RED FUCKING LIGHT!!!!
Not only that, the fucks decided that after they cut you off, and the lane isn't going anywhere, they immediately turn right back into their lane. Let me break it down for you. WHAT IS THE FUCKING RUSH!!! If you needed to be at a meeting or work earlier, you should have went to bed earlier and woke up earlier, instead of speeding down going in and out of lanes causing people to brake sooner than they should and ultimately slowing traffic down even more!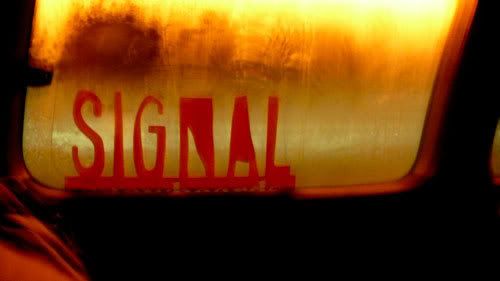 Moral: No wonder this country is fat...they don't even move a finger one inch to signal!
Keep Dancin'